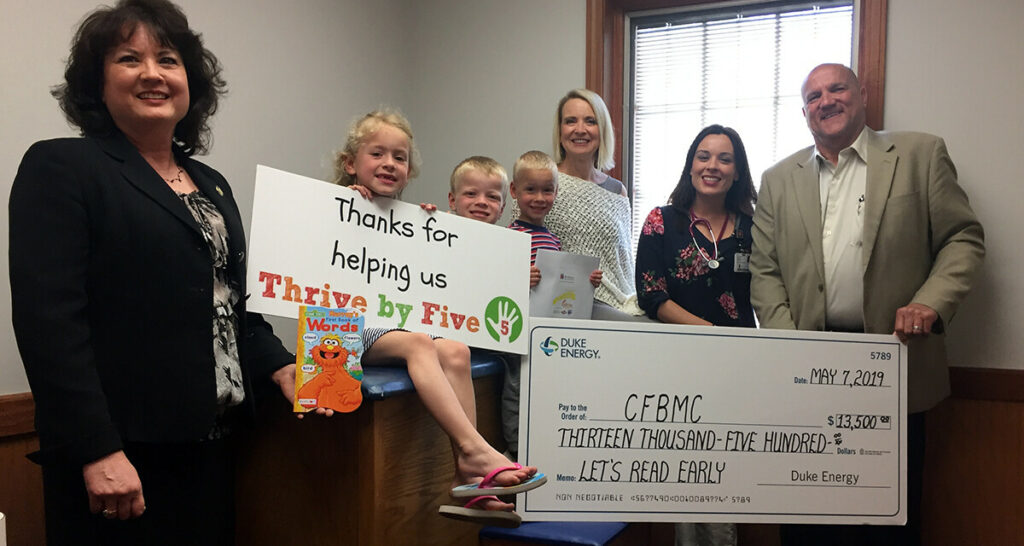 The Community Foundation of Bloomington and Monroe County announced today that it received a grant from the Duke Energy Foundation for $13,500 to support early literacy and parent engagement in Monroe County. The grant will provide books for children at wellness checks through IU Riley Physicians pediatric offices in Monroe County.
Let's Read is a program of the Community Foundation's Monroe Smart Start initiative. Housed in all Monroe County IU Health Riley Physicians' offices, the Let's Read program encourages doctors and nurses to read books at pediatric wellness checks and discuss with families the important role that reading has in school readiness. Free books are distributed to children ages six months to five years along with a packet of literacy resources for families. To date, more than 8,000 children and families have received literacy materials and developmental resources through Let's Read.
"Let's Read opens the door to academic success," said President and CEO Tina Peterson. "This grant will provide families and our community's youngest learners with resources to develop essential vocabulary, language, and reading skills before kindergarten. The Community Foundation is grateful to Duke Energy Foundation for supporting early childhood education and for helping to prepare children for success in school."
Duke Energy Foundation's Let's Read grant is part of its 2019 Powerful Communities program. In April, Duke Energy announced $3.2 million in innovative education grants as part of Powerful Communities. In Indiana, $448,250 has been awarded to support 29 nonprofit organizations with educational and reading programs, and initiatives that advance energy, engineering, and environmental education.
"The Duke Energy Foundation is pleased to partner with CFBMC on this literacy program," said Duke Energy government and community relations manager Bruce Calloway. "Having doctors and nurses engaging young patients and their parents in reading can certainly inspire a love of reading."
About Community Foundation of Bloomington and Monroe County:
Created by individuals, families, and businesses who share a passion for Monroe County and a vision for its future, the Community Foundation of Bloomington and Monroe County has granted $30 million to more than 400 local nonprofit organizations since its incorporation in 1990. With a growing $32 million endowment, the Foundation makes a difference by connecting caring people, important causes, and community resources.
About Duke Energy Foundation:
The Duke Energy Foundation provides philanthropic support to meet the needs of communities where Duke Energy customers live and work. The foundation contributes more than $30 million annually in charitable gifts, and is funded by Duke Energy shareholder dollars. More information about the foundation and its Powerful Communities program can be found at duke-energy.com/foundation.
About Duke Energy Indiana:
Duke Energy Indiana, a subsidiary of Duke Energy, provides about 6,600 megawatts of owned electric capacity to approximately 840,000 customers in a 23,000-square-mile service area, making it Indiana's largest electric supplier.
Duke Energy (NYSE: DUK), a Fortune 125 company headquartered in Charlotte, N.C., is one of the largest energy holding companies in the U.S. It employs 30,000 people and has an electric generating capacity of 51,000 megawatts through its regulated utilities, and 3,000 megawatts through its nonregulated Duke Energy Renewables unit. Duke Energy is transforming its customers' experience, modernizing the energy grid, generating cleaner energy and expanding natural gas infrastructure to create a smarter energy future for the people and communities it serves. The Electric Utilities and Infrastructure unit's regulated utilities serve approximately 7.7 million retail electric customers in six states – North Carolina, South Carolina, Florida, Indiana, Ohio, and Kentucky. The Gas Utilities and Infrastructure unit distributes natural gas to more than 1.6 million customers in five states – North Carolina, South Carolina, Tennessee, Ohio, and Kentucky. The Duke Energy Renewables unit operates wind and solar generation facilities across the U.S., as well as energy storage and microgrid projects.
Duke Energy was named to Fortune's 2019 "World's Most Admired Companies" list, and Forbes' 2019 "America's Best Employers" list. More information about the company is available at duke-energy.com.