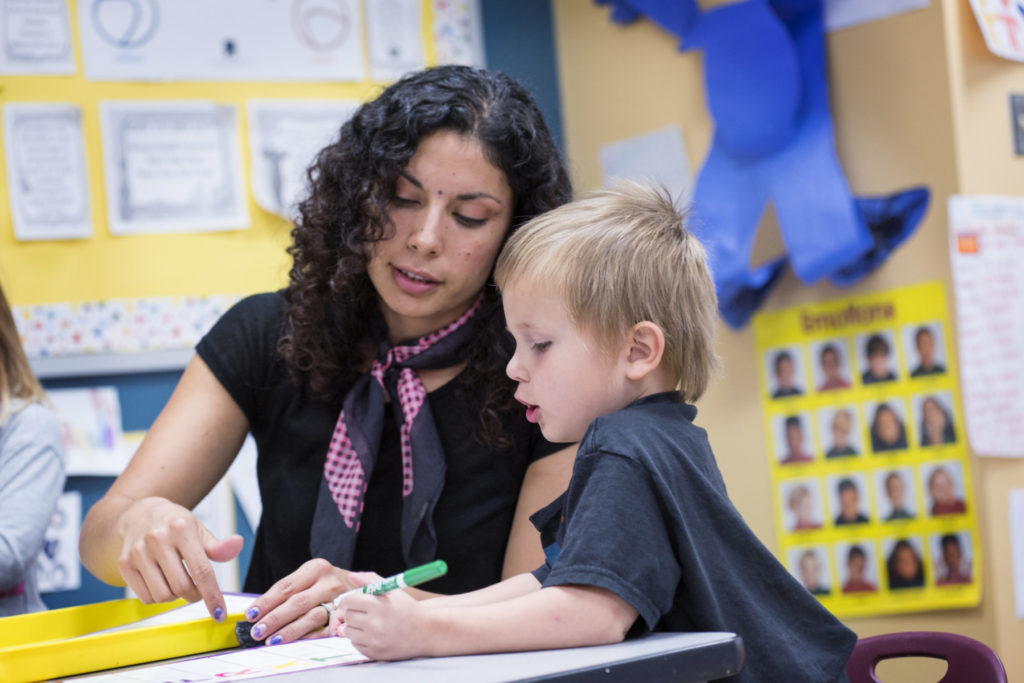 A leadership initiative of the Community Foundation of Bloomington and Monroe County, Monroe Smart Start works on behalf of our community's youngest learners in the following ways:
Increasing high-quality early education in Monroe County.
High-quality early childhood programs provide a solid foundation for development and learning that impacts the likelihood of success for children throughout their life. Monroe Smart Start works to increase access to high-quality early childhood education through its Quality Cohort Program. Quality Cohorts provide training, mentoring, resources, and materials to help early childhood sites achieve and maintain higher levels in Paths to QUALITY™.
Support to early childhood programs who want to grow capacity and provide greater access to families.
Monroe Smart Start partners with local community organizations to help grow their capacity to serve low-income children with free or low-cost child care options. Through Community Foundation grants, 140 four-year-old children per year are able to access tuition-free pre-K through Title I Elementary schools. Likewise, an additional 132 children have the opportunity for high-quality care through collaborative partnerships and local funding for sliding-scale & low-income seats.
Professional development & recognition for educators.
Monroe Smart Start also facilitates and promotes professional development for early childhood educators to increase their knowledge to learn methods for applying curricula in the classroom, and to improve the quality of learning for children. Monroe County has some of the best early childhood educators in the country! That's why we also host the Early Childhood Excellence Awards each spring to recognize the talents of early childhood educators in our community.
Family engagement and community partnerships.
Families play a critical role in promoting healthy development and preparing children for school. Through its Let's Read Literacy Program, Monroe Smart Start partners with community organizations to disseminate age-appropriate books, literacy guides, developmental resources, and child care information to families at wellness exams through age five.
Connecting families with programs that fit their financial capabilities.
Finding child care can be difficult; paying for it is even more challenging! Monroe Smart Start assists families with navigating the child care world by providing families the resources needed to choose programs that fit their budget while meeting high-quality designations set by Indiana's child care rating system, Paths to QUALITY™.
On My Way Pre-K enrollment support and community matching funds.
On My Way Pre-K, is an Indiana program that provides access to free prekindergarten to 4-year-olds from low-income families. Monroe Smart Start works with the Indiana Family and Social Services Administration (FSSA) via its Office of Early Childhood and Out-of-School Learning (OECOSL) to promote the program locally and assist with enrollment. The Community Foundation also provides a local match for every child that participates in On May Way Pre-K. Our partners at Monroe County Community School Corporation, City of Bloomington, and Ivy Tech Community College play an indispensable role in growing this programming and providing the additional support required for this program's local success.
Early learning advocacy.
Early childhood development is extremely important to our area's economic vitality. Ensuring healthy child development is an investment in our current and future workforce and enables a strong and vibrant local community. Quality care allows families to work as their children get a head start on developing the skills they need for success in schools and in the future.
Monroe Smart Start works closely with local, state, and national leaders to advocate for policies that support the availability of high-quality early learning experiences for all families and children, regardless of location or income.