Early Childhood Excellence Awards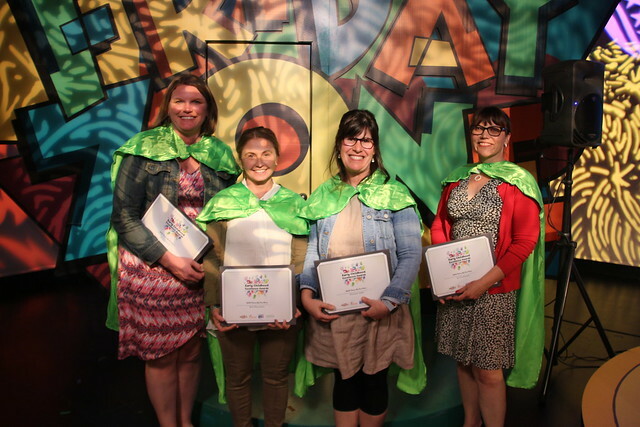 Research confirms that high-quality early childhood education is a critical component of K-12 success. That's why Monroe Smart Start recognizes the exceptional work of our community's early childhood educators! Every year during the Week of the Young Child, Monroe Smart Start hosts the Early Childhood Excellence Educator Awards.
Awards are given to early childhood educators that demonstrate high-quality care, collaboration, and a commitment to both addressing school readiness and improving the quality of early childhood education in Monroe County.
2019 Early Childhood Excellent Educator Award recipients:
| | |
| --- | --- |
| 2019 Excellent Educators | Early Childhood Site |
| Kate Allan | Rise and Shine Child Care |
| Melissa Bowers | MCCSC Early Learning |
| Katie Brody | Indiana University Campus Children's Center |
| Darian Brummett | Penny Lane West |
| Natalie Bzdyl | SCCAP Head Start |
| Amy Calvert | MCCSC Early Learning |
| Katelyn Deckard | Compass Early Learning Center – Downtown |
| Nancy Dorantes | Bloomington Center for Global Children |
| Sandra Downing | Covenant Christian Early Learning Place |
| Vanessa Fenker-Snyder | Campus View Child Care Center |
| Kate Gehringer | The NEST at New Hope |
| Sunshine Geisel | SCCAP Head Start |
| Jennifer George | SCCAP Head Start |
| Mary George | SCAAP Head Start |
| Kathy Guardon | Love & Learn Preschool & Daycare |
| Tamara Hallett | Children's Corner Cooperative Nursery School |
| Rachel Hancock | Bloomington Developmental Learning Center |
| Jamie Hendrickson | Covenant Christian Early Learning Place |
| Seda Jackson | Compass Early Learning Center-North |
| Donna Konstanski | St. Marks Nursery School and Kindergarten |
| Kristen Levato | Levato's Little Ones |
| Jessica Mackie | Jill's House Intergenerational Preschool |
| Mia Parker | Imagine Daycare |
| Brittany Pierson | Rainbow Child Care Center |
| Abigail Ray | Children's Village Child Development and Education |
| Constance Romine | MCCSC Early Learning |
| Teresa Wynn | SCCAP Head Start |
| Christina Younghans | Hoosier Courts Nursery School |